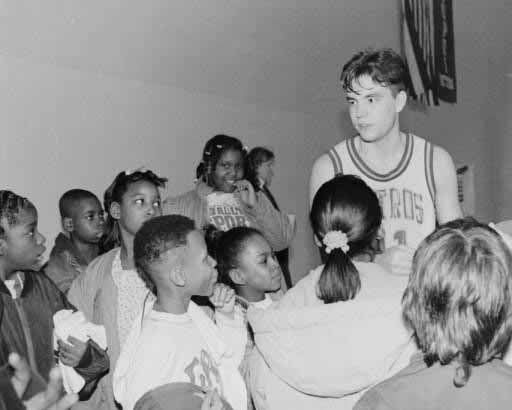 As a 10 year-old kid, growing up on the East Side of Indianapolis, the idea of becoming a Disney entertainer and professional musician seemed as likely as landing on the lunar surface. Life on Wallace Avenue, between New York and Michigan streets, was full of working-class folks that know what it's like to punch a clock every work day … looking for a little more for themselves and their families. My hope was to break out of the same old rut that had plagued the Archer/Edwards families and kept them working in factories for the best part of their lives.
If that seems like an insult to the working class, it isn't. In fact, I admire those who do the "dirty work," as it's sometimes called. Unfortunately, my genetic makeup is that of an entertainer. I wanted to tell the stories of my people: The joys … the hardships … the pain… the victories … the love … and, most of all, the sacrifice.
My Roots
Home will always be Indianapolis. Because of the Vietnam War, I was born in Fort Knox, KY, before my father was discharged from the U.S. Army. My sister, Shelly, was born 10 months later at St Francis Hospital in Indy. Pause for a moment as you take in that information…
My first love was basketball. However, I was better at baseball. As I got into my teenage years, my parents talked me into choosing one sport to specialize if I wanted to attend college. As a lower middle class American, higher education is very difficult to afford and, if you qualify for loans, you will be in debt, seemingly, forever! So athletics seemed to be my best option. I chose basketball because in Indiana, a good player is treated like a "god" … and it was so much easier to meet girls. I'm not even joking… That's why I chose basketball and not baseball!
As a basketball player, I played with and against the best players in the country. In my opinion, the best I ever played against was Grant Hill. That guy was amazing! I was an AAU All-American and did get that scholarship I so desired. I played at Indiana University-Purdue University (IUPUI) at Indianapolis and they have me come back to sing the National Anthem and perform at halftime for basketball games. Go Jags!
The Music
I walked into a music store in 1991, just by chance. If you don't play an instrument and you are in a music store, it can be pretty intimidating. The sales people are musicians and they are rarely sympathetic to a "newbie." They just see dollar signs. I paid $110 for my first guitar that was worth about $20. My cousin, Larry Edwards, showed me three chords at his home … then, sent me on my way to practice.
It proved to be too frustrating. I just couldn't get my fingers to work properly! So I stopped. As life continued, I moved a few times, but never threw out that guitar. I vowed I would learn to play some day.
Fast forward to 2000. I'd had enough of looking at that guitar, calling out to me as it sat in the corner of my bedroom collecting dust. I worked on the chords Larry showed me and, miraculously, I was able to switch from a G-chord to a D-chord without stopping. In my excitement, I immediately called my mother. I think I said something like, "Mom! I did it!! I can do anything!" She wasn't as impressed as I was, but did give me the typical, "That's great, son" routine.
I played and played. Thank goodness I lived alone so not to drive someone else crazy. If I was watching TV, I was playing. The fingers were getting stronger and the rhythm was getting more and more musical. I played the two songs I knew for friends and family. Then I knew five songs. That became 10. Pretty soon, people would ask me to bring my guitar to "get-togethers." Being a former athlete, I understood the importance of hard work. I became ambitious: I wanted to play publicly for money.
In 2003, life made it possible that I could move to Central Kentucky. My goal was to move where nobody knew me and see if I could be a musician. I didn't want to be 80 years old and wonder, "Could I have been a musician?" Failure doesn't bother me. "Not knowing" does. Yada, yada, yada …. I now have two albums, been on the radio more times than I can count, have been a Disney Entertainer, have two music videos, written a musical/play, and earn a living as a musician! I've done more than I ever expected … and I'm not done.
More Recently
I've decided that three years of playing for Disney was enough. My focus is now on performances. Terry McDonough is my musical partner in this crazy business. We travel all over the South and Midwest, entertaining folks. I always say, "We sell smiles."
The fine folks at 96.1 Hank-FM in Lexington, Kentucky have me write a weekly song, summing up the week in sports for the University of Kentucky Wildcats. It's now sponsored by Fayette Heating and Air and is more popular than I ever imagined. Maybe someday, IUPUI will ask me to do the same….
There is no way that I'm sitting here, typing this "Bio", without the help of many people. First and foremost, the late, Robin Gipson. She is missed dearly by many. I didn't know how much I relied on her until she was gone. She did absolutely EVERYTHING for me.
I want Terry McDonough to know how much his work on-stage is appreciated. The crowd LOVES him! So do I. He's a great musician, but a better friend. Thank you. "Big city sound…"
There are many more who do their part, but I don't have enough space. You know who you are and have my appreciation. Just know…. Somewhere tonight … as you read this…. Mike Archer is jammin'!!